Control Panel Demo
Try a live real time demonstration of our web hosting and email control panel. Included for every client as part of your domain administration panel.
Premier Services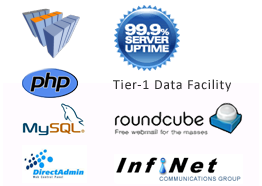 Need Help
If you are new to web hosting or email setup you may have questions. Contact one of our knowledgable staff for assistance.
Call us Toll free at 877-901-2123, or use our contact page for personal assistance.
Web Hosting Plans - Feature Matrix
This feature matrix shows you what each plan offers. Each feature is managed in real time from your domain admin panel. The free hosting package provides you the hosting essentials that every site requires. The Budget plan has every feature as the premium plan, making it an exceptional value for the price. The Premium plan has all the space and bandwith that you need for a large and/or high traffic site.
| | | | |
| --- | --- | --- | --- |
| Plans | Free | Budget | Premium |
| Storage | 50 MB | 300 MB | 5000 MB |
| Bandwidth | 1000 MB | 20,000 MB | Unlimited* |
| Installatron | Y | Y | Y |
| Perl and CGI | Y | Y | Y |
| PHP Scripting | Y | Y | Y |
| Password Manager | Y | Y | Y |
| FTP Accounts | 1 | 10 | 100 |
| FTP Account Manager | Y | Y | Y |
| File Manager | | Y | Y |
| DNS Manager | Y | Y | Y |
| Subdomain Manager | | Y | Y |
| Site Statistics / Logs | | Y | Y |
| Password Protected Directories | | Y | Y |
| Create / Restore Backups | | Y | Y |
| Webmail | | Y | Y |
| E-mail Accounts | 1 | 10 | 100 |
| E-mail Forwarders | Y | Y | Y |
| Catch-All E-mail | | Y | Y |
| Autoresponders | | Y | Y |
| Vacation Messages | | Y | Y |
| Spam Filters | | Y | Y |
| E-mail Filters | | Y | Y |
| Server Information | Y | Y | Y |
| Apache Handlers | | Y | Y |
| Mime Types | | Y | Y |
| Installed Perl Modules | | Y | Y |
| MySQL Databases | | 1 | 2 |
| MySQL Management | | Y | Y |
| Custom Error Pages | | Y | Y |
| phpMyAdmin | | Y | Y |
| Site Redirection | | Y | Y |
| Price | $0.00 / year | $29.88 / year | $59.88 / year |